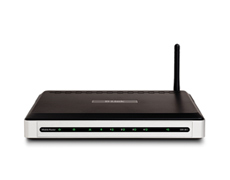 In related news, Beceem Communications, a leading provider of terminal chipsets for Mobile WiMAX, today announced its chipsets will be used by Clearwire in its mobile WiMAX trial in Portland, Oregon.
The Clearwire trial currently covers some 145 square miles east of Portland, and is expected to more than double by summer of 2008, with commercial services covering the cities of Portland and nearby Vancouver, Washington.
Among other Beceem-equipped CPE devices, D-Link is expected to sell Mobile WiMAX network gear (above, left) based on the BCS200 chipset under the D-Link brand to Mobile WiMAX subscribers around the world. Intel and Samsung have invested in Beceem.
Sequans and ZyXEL are also partners in Sprint's WiMAX ecosystem. The ZyXEL MAX-206m2 is the first WiMAX modem to be certified for the Sprint Xohm Mobile WiMax network. Zyxel WiMAX clients also include PC Cards.
A laptop with a PC card is unlikely to perform as well as a laptop with built-in 802.11n/Mobile WiMAX antennas. Centrino is Intel's strategy for combining CPU, mainboard chipset and wireless network. Current Penryn laptops use "refreshed" Santa Rosa architecture.
This spring, Montevina architecture will fairly bristle with MIMO antennas and advanced wireless circuitry, for better range and performance. Intel's WiMAX strategy is to tie Wi-Fi/WiMAX hardware into their architecture for improved wireless access.
Unstrung reports the WiMax relationship between Clearwire and Sprint could be rekindled as early as next week — with a little help from Google and friends — according to a ThinkEquity Partners analyst Eric Kainer.
The Sprint/Clearwire partnership would be financially backed by Best Buy, Google, and SK Telecom.
[get this widget]